It's holiday season. So I thought to myself 'why not dedicate the entire month of December to festivity?' I think that's a brilliant idea as I know for a fact that some of us struggle with this season (even some of my models – believe it or not). So let's start with the basics:
Holiday season is about atmosphere and light. Everything is (or should be) shimmering. So if I want to add a little bit of christmas to myself without wearing that sequinned dress with the rhinestone appliqué or going down the
Liberace
alley – I go for good old heavy jewellery. Not much else needed if you throw on a heavy gold chain or a millstone of a bracelet (or both).
I am talking about statement jewellery here. The ONE piece that stands for itself and needs only the plainest of garments to still make you look like like a diva. It shouldn't look cheap though. And it should be heavy (believe me, you can SEE weight). So the best way of not spending your heritage at Cartier's but still getting something beautiful and treasured is going for a nice piece of vintage costume jewellery. You will not regret it. It comes with a history (believe me, you can FEEL history). Wearing my necklace and thinking about the fabulous women that wore it before me and the fabulous parties they went wearing it – makes me feel incredible festive and holiday-ish.
Vintage Nina Ricci necklace from ebay on a painting by Patricia Grosdemange from the fleamarket 'Porte de Vanves' in Paris.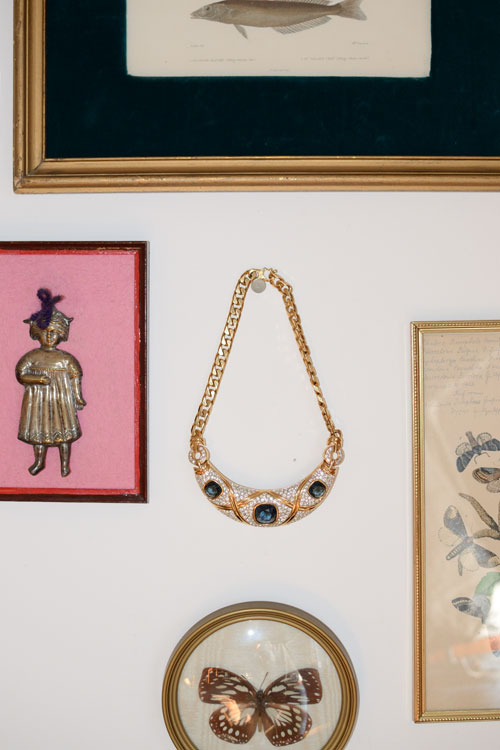 ©Julia Richter