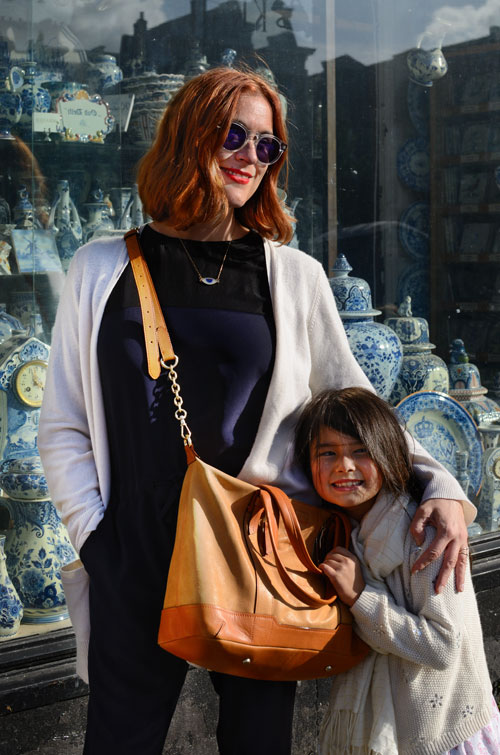 I haven't seen Corey for more than a year. When I meet her in Amsterdam she is wearing blue and white. We are in Holland after all, home of Delft porcellaine, how could you possibly wear any other colour?
But colour is not what I want to discuss in this post – it's the jumpsuit.
Hugely popular, it is seen in every store window and magazine nowadays. As a women of style, there is no way around it this summer. I find this slightly odd. Those 'onesies' are the most unpractical garments that women's wear of the last decades has come up with. First of all they never really fit perfectly. Either the crotch is uncomfortably high (especially when you bend down) or it dangles somewhere below its place of destination. But that's not the worst thing. The worst thing is that you should not drink any liquids while wearing it outside of your house. Unless you like to strip down to your bra in a public restroom and have your garment polish the dirty floor. Even worse when you wear it with a belt and jacket. Have you ever tried holding your purse, a belt and a jacket while getting out of a jumpsuit and trying not to wet yourself?
The attentive reader of my blog is already frowning by now as
post #181
on the blog features myself wearing a black jumpsuit with a blazer. I admit it, I love jumpsuits despite all the above. Just one piece and you are perfectly dressed, how convenient is that? Who really cares about a little bit of restroom dirt on your sleeve when you can look like a
studio 54 star
?
Thank you, darling Stella, for modelling with your mom.
Corey waers a jumpsuit by ffixxed ester partegas, shoes by Loeffler Randall, a bag by Olivia Harris and sunglasses by Illesteva.
Stella waers a scarf by COREY.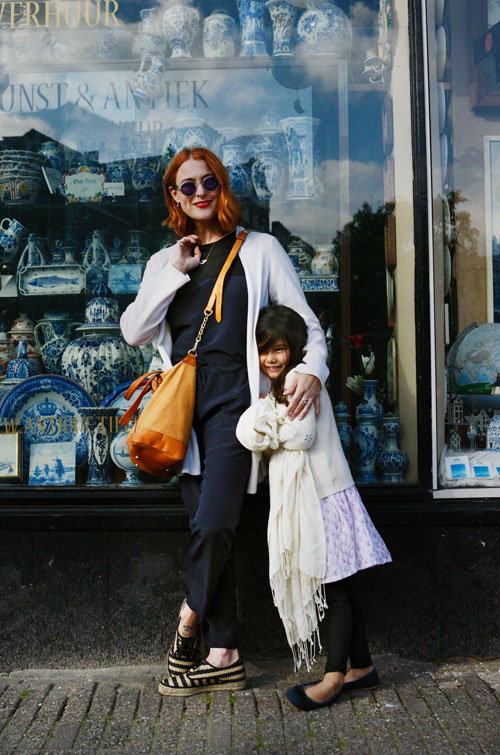 ©JUlia Richter