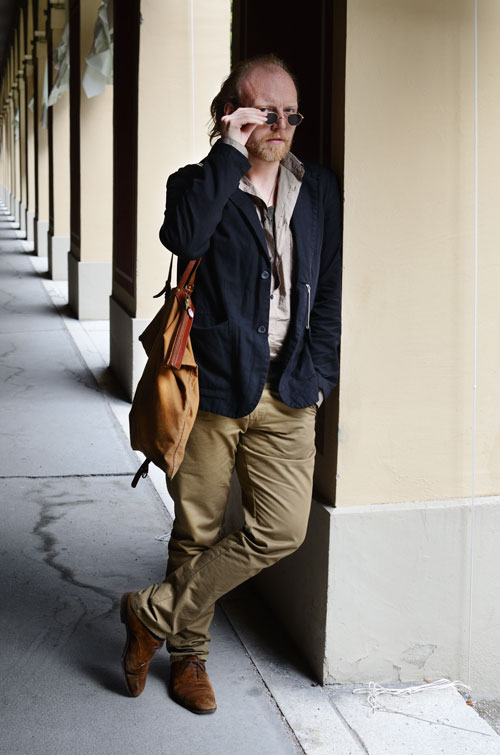 After returning from my summer vacation I am pleasantly surprised by
a call from Bernd telling me that he will come to see me. Bernd is a real
tweed and leather man so I am quite curious to see him on a warm August
day when tweed is definitely no option.
Under the arcades of Munich's Hofgarten I meet a very relaxed Bernd with
unbuttoned shirt who has traded tweed for cotton and tabacco tones for khaki.
He has a certain Thomas Mann 'Death in Venice' air about him and fits
perfectly into the ambiance of the curtained arcades (a temporary installation
by Ayzit Bostan and Gerhard Kellermann meaning to replicate Piazza San
Marco in Venice). Summertime is not an easy time for a man who wants to
maintain a certain standard of style and still be comfortable. Shorts and flipflops
are no option for Bernd but his modern version of a beginning of the 1900s
intelectual on the way to his summer health resort is definitely a good way of
keeping the perspiration under control and retaining your dignity.
Bernd wears a shirt, a blazer and a belt by Hannes Roether (Berlin), a tank
top by H+M, his necklace are personal souvernirs, pants by Levi's, his shoes
are by Edward Green, the bag is by Manufactum and his sunglasses are by
lunor.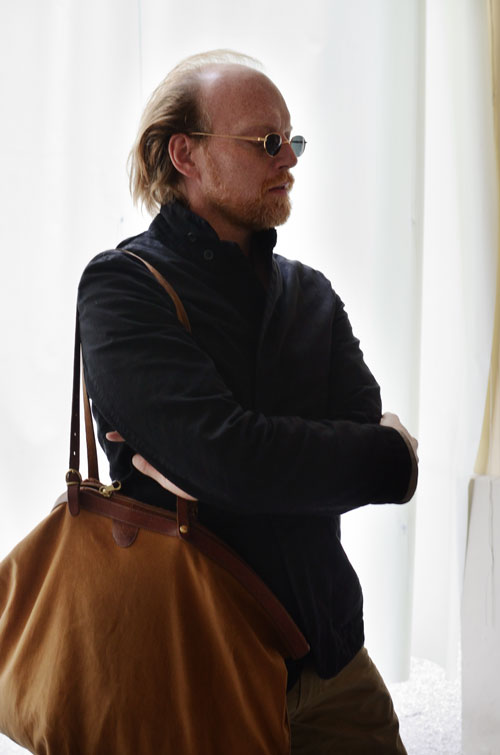 © Julia Richter