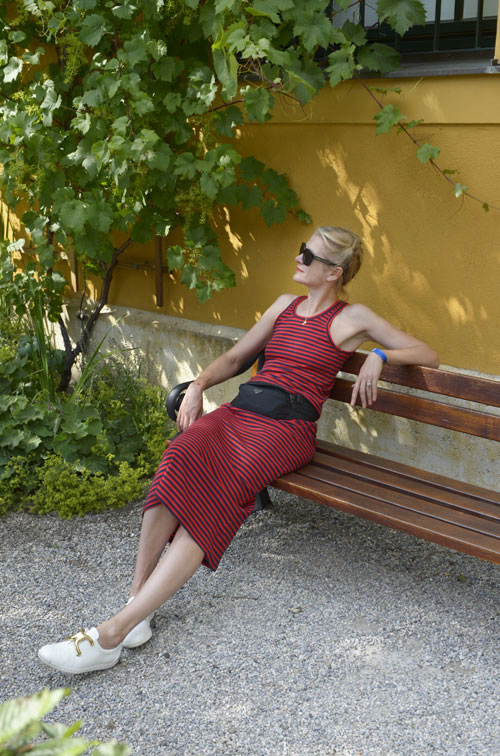 Is there an official name for them? Fannypack, bum bag, belly pouch? We call them 'Wimmerl' in Bavaria, it's sort of a nickname for a pimple. Maybe the name doesn't matter or is it significant for this fabulous accessory that it was never awarded with a real good 'fashion-name' (or it never reached my ears). 'Wimmerl' – let's stick with this name for now – are quite popular and well-established in hiking and outdoor circles. Practical, safe, always at hand. They harbour passports, emergency money, keys, band-aids, sun-screen and maybe an energy bar in case we have a power-low. Everything in one little front pouch, thief-proof. It was the 90s when the fannypack made it's short entré onto the catwalks, slipstreaming it's more popular companion, the backpack. But it never really gained ground outside the outdoor community. To me that's a mystery. I am a huge fan. Always was. And I would like to point out the advantages of this entirely underrated accessory: makes your waiste look slim, at least from the front, can also be worn casually depending on the garment you're wearing. No annoying clutch in your hand, leaves your hands free for drinks and snacks. Gives you a slight active touch. And last but certainly not least: it hides any kind of paunch you might feel you have in seconds! A tight tube dress for a BBQ? No problem, throw on a fanny pack and bring on those spare-ribs! One thing I have to admit though: they don't go well with long jackets and winter coats – unless you want to be asked about the due date.
Julia wears a dress by Petit Bateau, a vintage fanny pack by Prada, a vintage blazer by Armani, sunglasses by Chloé and sneakers by AHAAS.
Thank you, Frank, for taking such beautiful pictures.