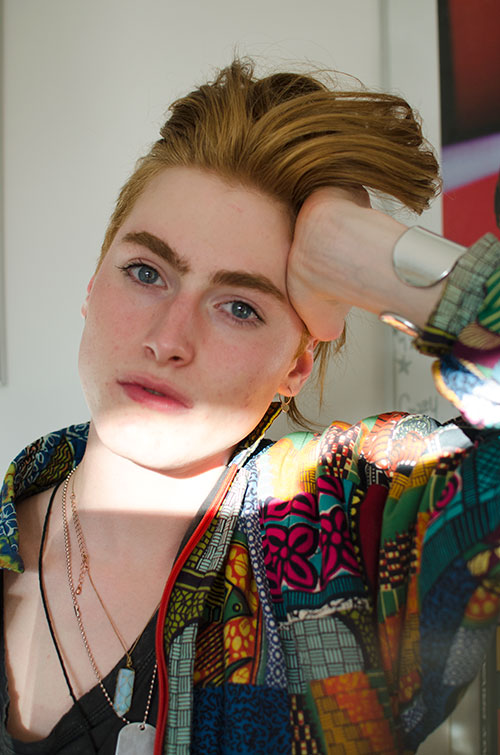 There are pieces in your wardrobe that you don't wear. They are out of fashion, they are torn or they simply don't fit anymore (and you can't face the fact that they never again will). Throw them out. Make yourself happy. Simplify your life. There are tons of self-help-happy-wardrobe authors who will nod enthusiastically now. It's easy, just keep what makes you happy and give the rest away. Keeping what makes me happy…..there we go….it's not as easy as it might seem. My wedding dress. Once worn, never again (hopefully), makes me happy everytime I look at it. My 5 inches blue suede pumps, much too high for me (although with a little bit of practice…), I put them on every once in a while and walk up and down in my living room – so enjoyable.
Or a torn pair of jeans, super skinny, stretch, hidden all the way back in the wardrobe of an 18 year old who can hardly squeeze into it, let alone close the button. But he can't throw them out. Because those were the pants he wore when he was 14 and sang at the
blind auditions for 'The Voice kids'
. Those were the pants the judges saw when their chairs turned around and all three of them begged him to join their team. It was a crucial moment for this 14 year old boy with the braces and the big voice. He didn't win the contest, but it definitely changed something. He tasted fame and being desired and he knows what it feels like to ALMOST get there. It might not have been the start of stardom but it certainly triggered a deeper desire to become a serious artist. And not least it marked an irreversable step away from childhood into adulthood. That's why he cannot throw away those pants.
This is my second collaboration with Alex from 'Story of my Shirt'.
For more pictures and full interview with Tim and the story behind those black pants visit her beautiful blog!
Tim wears customized Jeans by Tally Weill and a jacket from a second hand store in New York.
SEE ALL PREVIOUS POSTS ABOUT TIM AND HIS STYLE…