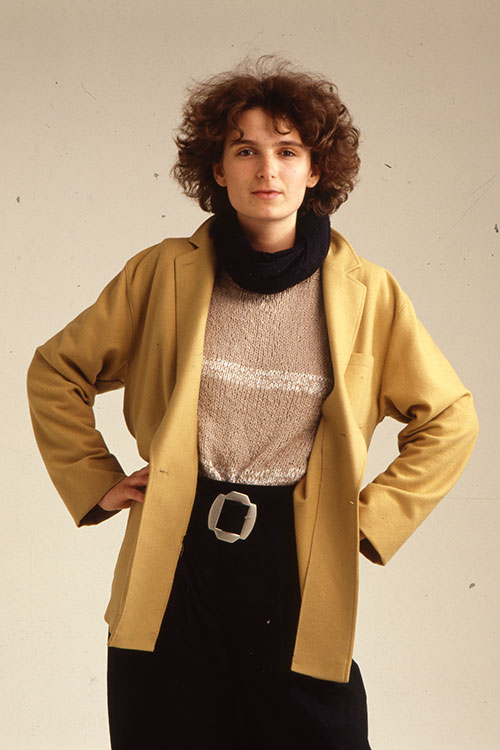 I am blessed. My cousin has died. And I had the chance say good-bye for 23 month. She was diagnosed with a lethal brain tumor and passed away three month ago. Actually I don't know when she really left us since the tumor slowly took over more and more of her and what was left in the end was not the woman I grew up with, who I had by my side like a sister. But who am I to decide what she really was like? Life means change and how fast we change is a matter of different circumstances. This blog is about change and transformation and I follow, observe and document my models' changes. I documented my cousin's changes. I had to. It made the unreal real and gave me the chance to put a filter between me and the unbelievable.
For much longer than 23 month I watched my cousin change. From a sometimes annoying child who made me watch horror movies with her (I had the nightmares, not her), who talked constantly and would NEVER sleep in the car to a tall and skinny teenager who got mobbed at school, into a self-confident, beautiful woman with an incredible sense of fashion and humour. We spent our childhood together, went on family vacations together and later on our first railroad trip without parental supervision. We started to explore Munich's nightlife as soon as she had her driver's license. And did we explore it well. With her I was never afraid of anything. Because she was never afraid. She fearlessly passed by terrifying bouncers to get us into the hippest clubs of Munich (there weren't many) – me always one step behind. I would have missed out on so much fun and adventure without her.I would not be the person that I am today without her. She was bold, never thought twice, just did it. Like when she left Munich in her 20s, went to the States without ever being there before (without even speaking proper English) and built up a new life from scratch. Met a life guard in the first week of her arrival, married him, had a son (all within the first year), divorced him, built her career in marketing, raised her kid, married again, moved from California to Portland because she missed the seasons, became a yoga teacher – and got a brain tumor 10 years later. We never lost touch. Always were close even in times when we rarely spoke to each other on the phone because our lives were both so busy.
When her dad died 20 years ago I was the one to call her, when her mum passed away 6 years ago, again I was the one who made the phone call and cried with her. Then I got a phone call 2 years ago. From her husband telling me that she had had brain surgery, because a massive tumor had grown inside her head, all the symptoms had been misread and her brain pressure had been so high that she had almost died. It was removed immediately. Glioblastoma Multiforme. Stage IV. Not curable and lethal. Average survival time: 15 month. I cried, this time on my own. And went to see her 3 months later. The first of three trips to Portland, Oregon, to say good-bye to my cousin. I did not know what to expect when I arrived at the airport, certainly not my cousin picking me up in her car almost an hour late, driving the car like a 90 year-old. She had aged physically, her hair was short and gray (at least the patches that chemo therapy had left) and she didn't even bother to wear a hat or a scarf to cover it up. Vanity had vanished, it appeard to me. She had worked for luxury cosmetics brands where looks and youthful appearance were everything and there she was, with her rugged hair, bloated by hardcore medication, handicapped sticker on the rear mirror – but happy and alive and she didn't give a damn. I first thought the doctors might have cut the vanity area out with the tumor but I think I was wrong. She just didn't want to hide. It never even occurred to her that this could be something to be ashamed of. My cousin was probably the most un-prudish person I've ever met. Her son always rolled his eyes when she would run around the house bra-less thinking about his never-seen-their-parents-naked American school friends. 'My European mum' he always said (proudly).
She never talked about dying. She talked about the future, about growing old, maybe moving to Costa Rica, coming to Germany for a visit. No sight of 'I have to accomplish this and that before I die', no plans of climbing the Himalaya or running a marathon. As handicapped as she was physically, her spirit was unbroken. She might have been a little more unfocussed, her sense of time was definitely worse (it had never been good), she was hypersensitive to noise and touch and super-jumpy, but she was still her old self minus a few filters.
9 month later on my next visit I started to believe that there is a future. Her mobility had improved, her looks, her mind. Short term memory was better, her sense of time had returned. I almost felt safe again in the car with her. We spent 8 days at the coast, took walks, went vintage shopping, drank margaritas and had long talks about how we see each other, about our mothers, about that beautiful hair style in the magazine is. Never about death and illness. It came up once during my first visit, more like a footnote, a slight possibility – '…in case I might be pushing up the daisies soon…' and then she cried a little. But that was it. The topic was not an issue anymore and I didn't force it on her.
She made me forget about death. Made me believe that everything would be OK. For a split second I thought 'maybe she's the one miracle'. But then reality kicked back in 9 months later, when I got a phone call from her husband again, telling me that 2 new tumors had grown back and they had grown fast. 'There won't be surgery' stuck in my mind, because I knew what it meant. So I went on my last trip the week after. Nobody picked me up from the airport, I got a rental. And it was me who drove her around this time. Me, who picked out places to go, who decided to go to the beach one last time. Visit places where we had been happy. Me, who dragged her out of bed every day, helped her taking a shower, getting dressed and getting in and out of the car. I will never know if she really enjoyed those trips, all those coffee shops. A big part of her had withdrawn already. But she was with me and I was with her. She called me by my nick-name, enjoyed my company, allowed me to take care of her. Help her. Decide for her, when she didn't care anymore. We didn't talk much. I have never felt so lonely in my whole life. And I felt blessed. That I had the chance to be with her, take care of her, feel her skin, wash her hair, dress her. Like she was my child. My strong, self-determined cousin.
She died 2 months after I left, her condition had worsened dramatically the week after.
If you ask yourself 'why the hell is she telling us? It's so personal..' – it is, but I am tired of death and illness being cut out of our life. Nobody daring to talk about it, ask about it. But it's still part of our life. Part of my life. And I am happy to be alive, thankful, that I am aging. I don't care about getting wrinkles, at least I live to get them. That's what I've learned from death. What's life worth without death anyway?