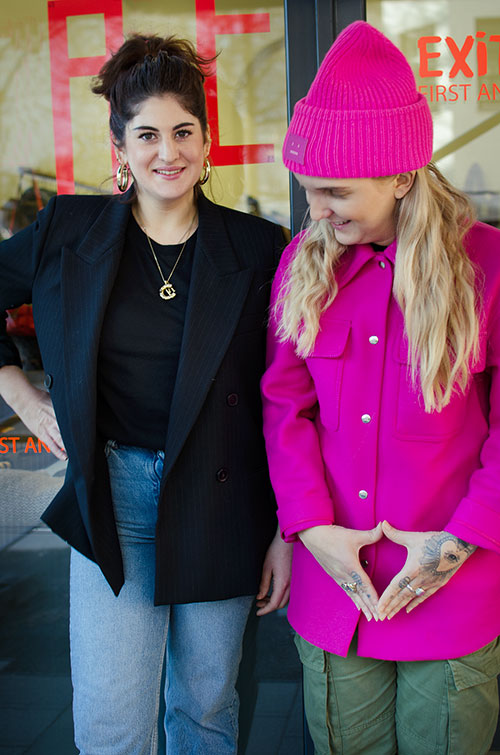 The common era has changed. There was a time when you could meet for pizza, get drunk in public, visit friends over the weekend, eat from the same plate and elbow your way trough a crowd. And you could breathe. Just like that. Without getting that humid feeling around your mouth. That was the time before Corona. Let's call it B.C. And there's the present time. Let's just call it Now. Whoever made plans in B.C., whoever had ideas, wanted to change the world or simply take a risk, had a real chance (if the plans were not total pipe dreams): 'I'm going on vacation this summer and I'll make reservations. I enrol at university so that I can start in the summer semester. I'll open a second-hand store with my friend, because preloved fashion is sustainable and I know a lot about fashion and style and I want it to be special and perfect and something that has my handwiriting all over.' Everything goes as planned, great shop, great area, great merchandise. The opening is in autumn, holiday shopping is going well, January and February is a bit weaker, that's normal. And along comes Now. And everything is different from one day to the next. The shop is closed. The rent must be paid. Thank God the clothes are on commission, no invoices to be paid in advance like you usually have to do in retail. And still. Shit. That wasn't the plan.
Now has changed everything and everyone. Life is more difficult and it's hard to get used to it. Wearing masks, keeping our distance, not being able to be with our friends. Not being spontaneous. No big, loud, fab dinners! Can't hug the parents anymore…it's tough. But there is also this other Now. Where you get creative, where you start something like an online shop, where you improvise, do things you never thought of before. Where you restart and rethink. What do I need, what is important. Who is important? The Who counts more now – who helps, who is there, who continues to be there for others. The We is important. The We makes everything possible again. Go on with whatever you are doing, protect, help and keep that spirit going. Maybe the We will be different and better in the future. In a time that will be called A.C.
Clara and Charlotte have reopened their preloved and vintage fashion shop 'Exit Store' at the Pestalozzistr. 28 in Munich last week. Like so many other small shops. Stop by and if you need anything, buy there, Amazon and Zalando make enough profit as it is.
Clara wears vintage pants from Exit Store, a jacket by and other stories, shoes by Converse, Acne hat, jewellery among others by Patrick Muff.
Charlotte wears pants by and other stories, shoes by Arket, a blazer and a shirt from Exit Store and a selection of vintage jewellery.
Exit store offers women's and men's fashion, shoes and accessories (that awesome necklace in Clara's hand is mine already…)