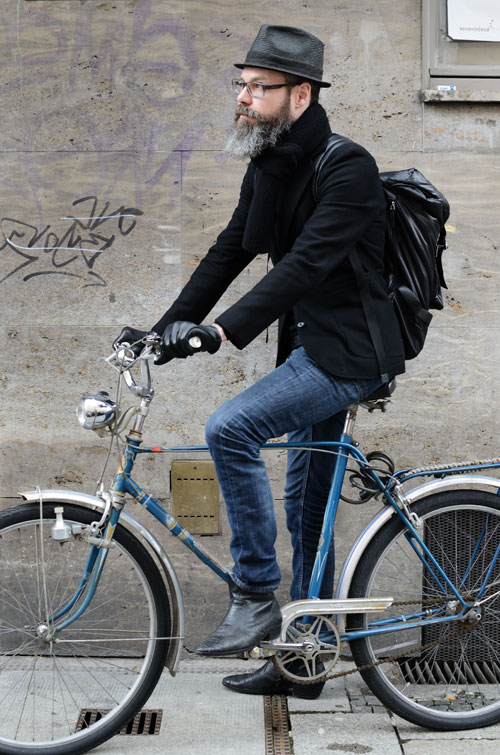 Backpacks are very practical. You have your hands free to ride your
bike, read a map, hold your nordic walking poles…but can a backpack
also be a serious fashion accessory? There was a time in the 90s when
backpacks were hugely popular and when the trend peaked  even
grown women coud be spotted carrying tiny backpacks holding hardly
more than a lipstick. The 90s are back and along comes the backpack –
as seen on Gunnar who likes to think and dress unconventionally.
Gunnar is a very smart dresser – he likes basic pieces, doesn't like to be
flashy. Today he wears jeans and blazer, a classic combination as seen
on (business-) men who dress conservativ and want to look a bit more
casual. Gunnar wears a more stylish version as he choses a very slim
silhouette, tight jeans, narrow blazer. So far, so good, still not out of the
ordinary. But this man knows how to accessorize…very subtle, but very
recognizable.
Subtle because he keeps all his accessories in strict black – hat,
backpack, gloves, scarf, shoes, glasses – recognizable because all of his
accessories except of his scarf have a shiny surface so they sihouette
against the black of his jacket and scarf – and I haven't seen a business
man so far, wearing western boots with open zippers and riding a
granny bike.
Gunnar wears a blazer by Michael Wagner, jeans by Acne, a hat by
Goorin Bros., a cashmere scarf handknitted by his mum, gloves by
H+M, a backpack by Piquadro, boots by Peter Schmid and a
'National' bike by a second-hand bike dealer in Tutzing.
SEE ALL ARTICLES ABOUT  GUNNAR…
© Julia Richter