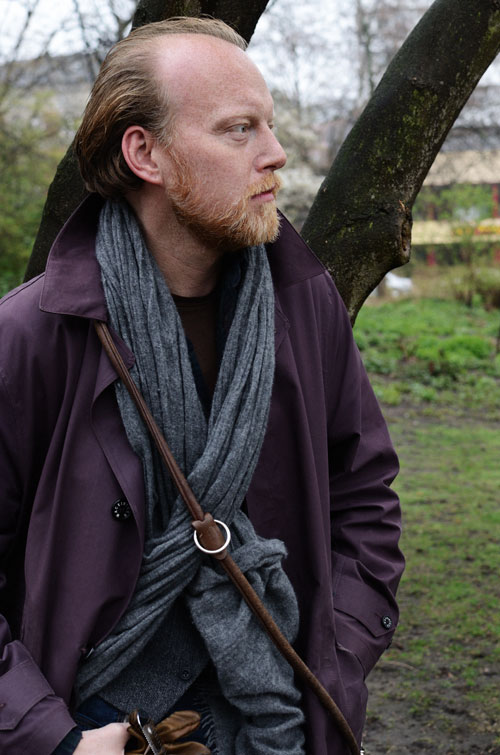 It's a cool and rainy morning in Berlin. Every time I visit Berlin it's like
that, cool and rainy – if I'm lucky. I've been told that Berlin is great when
the sun is shining, people are out in the streets and you feel the energy,
the city is buzzing….that's what they keep on telling me. When I come to
Berlin, I can't see any streetlife, because usually my sight is blurred by a
sleet storm, it's always freezing cold and once I even had to drag my
trolley suitcase through a mean blizzard. 'It was so lovely yesterday' that's
what they tell me every time I'm there – I am slowly losing my faith.
But as they use to say in Britain 'There is no such thing as bad weather,
only inappropriate clothing', so Bernd throws on his eggplant coloured
Mackintosh, grabs Peggy's leash and her comb and off we go to the next
public park. A Mackintosh is the ideal piece of clothing for this kind of
weather – not too heavy, completely waterproof and last but not least it
perfectly enhances Bernd's 'old english gentry' appeal. Once again I am
fascinated by Bernd's abilty to not only dress very stylish but to create
an 'aura'. The way he twists his scarf, throws the leather leash over his
shoulder and carries his gloves makes me think of an old painting or
photograph. It's all the more astonishing that he never looks contrived
or 'costumy' (although you would almost expect that of a high-class
costume designer like Bernd) but rather natural and casual.
Bernd wears a Mackintosh raincoat, jeans by Levi's, a T-shirt by
Lee,  vintage waistcoat und gloves from London, a cashmere scarf by
Uli Knecht, boots by  John Lobb for Hermès and Peggy's leash.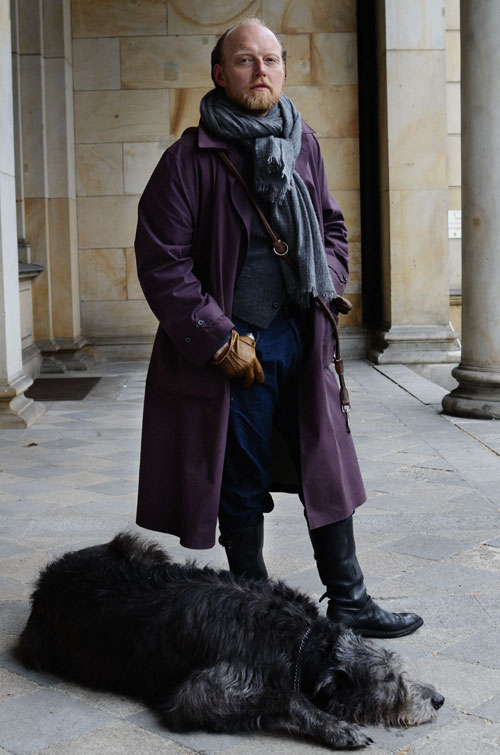 © Julia Richter