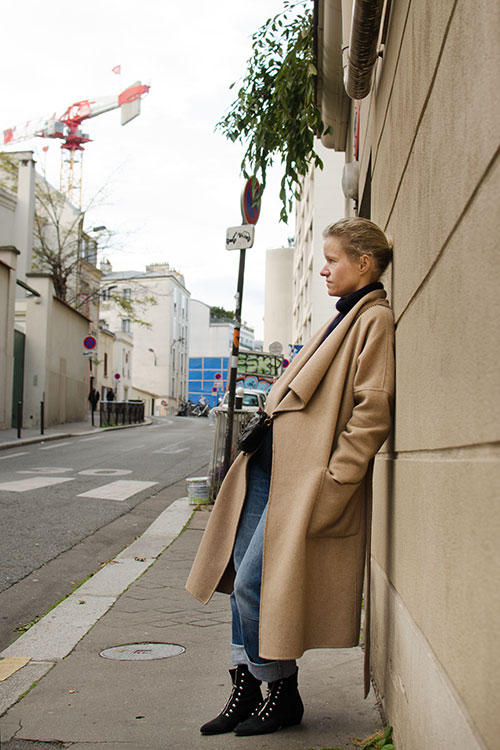 You know – one of those days, when you don't feel your best. You don't want to stick out from the crowd but being invisible would make it even worse. You want to dress comfortable but not shapeless, casual but not sloppy. You need an outfit that is sort of an armour to the world but not hostile, something that's mellow and still stylish (just in case you run into somebody). That's when you need the Holy Trinity of Casual: Jeans, Jumper, Coat. And I am not talking about any kind of JJC combo, I am talking about a well chosen unit of garments merging into a unique symbiosis that protects you from any kind of rigour the world has in store for you.
Small manual for the perfect JJC:
Jeans:
Definitely loose fit. On a day like that you do not want to feel wedged into some garment that might make you feel uncomfortable or will feel one size too small at some point.
Rolled up hems (to show that you still have ankles)
Jumper:
Loose fit – but not too loose. Baggy pants, baggy top, not a good idea. So choose a slim and sleek silhoutte and make it cashmere if possible. Soft and luxurious. Cashmere always helps if life gives you the elbow.
Coat:
No black. For sure. Even if you think you can hide in it. You walk out of the house in a bad mood, but you will return deeply depressed.
No colour. Remember – not sticking out from the crowd?
Grey is a bit too dull, makes you look bloodless and sick. So camel it is. The perfect choice. Warm, light, embracing camel, makes the sun come up again.
Pair it with some nice and comfy boots (not too chunky, remember the ankles) and a small crossover bag (we need both hands in our warm and cozy big pockets to feel good).
Follow those simple rules and you will FOR SURE return home in a better mood than before you left (or a least it won't be worse).
Dodo wears coat and a jumper by Zara, vintage jeans by W&LT, boots by Dodo's own label An hour and a shower, bag is handmade by Dodo.